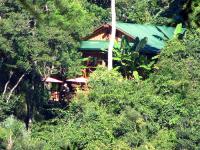 Tacuapí Lodge
Location
165km east of Posadas (Misiones, Argentina)
Description
Tacuapí Lodge is set in 13,000 hectares of dense jungle in the heart of Misiones, about 2½ hours from Posadas. The owner, Julio, is an active conservationist and has designed the lodge in such a way to minimize the impact it has on the forest. The lodge is built from reclaimed wood and the food is excellent.
Activities
Bird watching, forest walks and abseiling.
Accommodation
Seven separate cabins all named after local trees, each with their own private balcony. Rooms are air conditioned and have wood fire heaters for hot water. Two of the cabins have two floors and can sleep up to five people.