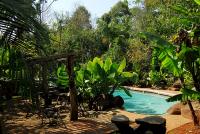 Yacutinga Lodge
Location
95km east of Puerto Iguazu (Misiones, Argentina)
Description
An environmentally friendly lodge in the heart of the Argentine rainforest and excellent for wildlife, especially birds. Two hours drive from the Iguazu falls, the lodge and private reserve comprises of 570 hectares of primary and secondary interior Atlantic rainforest set on a peninsula on the banks of the Paraná river opposite Brazil. There are a number of well-maintained trails, a short, wooden canopy walkway as well as a humming-bird and orchid garden.
Activities
Guided walks and boat trips with specialist wildlife guides.
Accommodation
Rooms are simple yet comfortable within 5 rustic cabins just outside the main lodge. Facilities include swimming pool, restaurants and bar.
Our comments
Wonderful for birds and a great escape from the hustle and bustle of Iguazu. The facilities are rustic, the rooms a touch spartan but the service and atmosphere from the heart.
Client comments and reviews
This was such a wonderful experience and the food was exceptional. We cannot speak highly enough of the staff and activities at the lodge, it was a truly magical experience. - GR (October 2008)
We really enjoyed our stay at Yacutinga. Very good food and service and friendly staff. Overall a wonderful experience. - PW (November 2007)