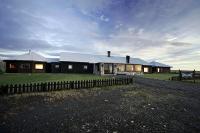 Kau Tapen
Location
South banks of the Rio Grande (Rio Grande, Argentina)
Description
A comfortable, purpose-built fishing lodge on the south of the river with a fine reputation for sea trout. All meals, wines and local spirits included. There is a massage, sauna and steam room.
Departures
Saturday
Capacity
12 rods
Activities
Fishing (one guide per two fishermen). 10 rods.
Accommodation
10 spacious and comfortable rooms (2 twins and 8 with king beds).
Our comments
Consistent fishing.
Client comments and reviews
I had the best day's fishing that I have ever had at Kau Tapen. The guys at the lodge couldn't have been more welcoming and I had a constant stream of gluten free food and specialities which was delightful. So, in spite of expending lots of energy, I am sure I have put on weight in the week there. - TM (January 2018)
Kau Tapen was a great success. Accommodation and food were excellent, albeit there were 14 fishers! The staff there could not have been more helpful, and the chef did a fine job serving up some excellent meals. Guides were very professional and offered so much advice during the week and were consistently optimistic and really quite passionate about the whole business. I had some good catches and lost some fish which clearly I should have landed! Overall there were 180 sea trout to the rods for the week. Compared to Scotland these Lodges just have it right - value for money in the best sense-and the House manager and staff go out of their way to make it a really good experience. - JO (January 2013)
All aspects of my Kau Tapen experience were exellent. I will remember Kau Tapen for a long long time and I am especially grateful to Matias and Gaston, my guides. Spending time by a river like the Rio Grande with true fly fishing enthusiasts like them..... and if you then add the monster trout and the atmosphere of the "House of fishing" I could not get closer to my flyfishing heaven. - BH (December 2007)
Standard
Very comfortable twin rooms with private facilities.