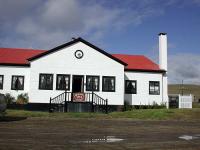 Villa Maria
Location
Estancia José Menéndez, near Rio Grande (Rio Grande, Argentina)
Description
Villa María is about 10km from Rio Grande airport and on the south side of the Rio Grande river. Sleeping just 6 anglers, this is one of our favourite sea trout lodges, not only for the quality of the fishing, but also for the range of activities for non-fishing partners.
Departures
Friday
Activities
Fishing (6 rods). Beats are within a 25 minute drive in most weather conditions. Villa María probably has the freshest fish, especially in December and January. It is the most comparable to the big Scottish rivers and so best fished with a double-handed rod as the pools are wide. There is easy access to alternative rivers such as the Ewan (browns, brooks).
Accommodation
6 comfortable en-suite rooms (some are singles) for us to 8 guests.
Our comments
All meals, wines and local spirits at lodge included, plus licences, and one guide per two fishermen.
Client comments and reviews
We had a great time fishing, the accommodation and food were very good and we caught the right amount of fish. The staff at the lodges (Villa Maria and Toon Ken) were very helpful and the chefs enthusiastic. I think some of the fishing guides were a little inexperienced (probably because I remember the guides from previous years) but they were good and helpful. - IT (January 2008)
Another very successful trip and thanks to you all for the seamless organisation. Fish were in excellent condition-some got the better of me but at least I got the biggest for the season so far at Villa Maria! Villa Maria is really very special and well run-hope it stays that way. I plan to do Villa Maria again in January 2008. - JO (January 2006)
Standard
Comfortable twin rooms with private facilities.