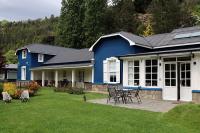 La Casa de Eugenia
Location
San Martin de los Andes (San Martin de los Andes, Argentina)
Description
A charming boutique hotel in San Martin de los Andes, set in a 1920's property with two sitting rooms, a tea room, reading room and an outdoor pool and hot tub.
Activities
Well situated for exploring the stunning area, including Lanin National Park.
Accommodation
The rooms are all slightly different with a cosy, country feel and a private bathroom.
Our comments
Welcoming and friendly staff and nice relaxed feel.
Client comments and reviews
Casa de Eugenia was an absolute gem, easily found on arriving in town, but tucked away at the end of a quiet cul-de-sac and within easy walking distance of everything going on, or the lake for a stroll with glorious views on all sides. It's a small family-run guest house and was cosily furnished with plenty of places for people to sit down for a chat, bedrooms were large and comfortable with french windows opening on to the pretty garden and pool, and the breakfast room was sunny and welcoming. - JB (February 2018)