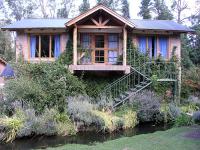 Estancia Huechahue
Location
60km north-west of San Martín (San Martin de los Andes, Argentina)
Description
Huechahue is in the Andean foothills about 45 miles from San Martín de los Andes and 125 miles from San Carlos de Bariloche, and is particularly well know for the quality of the riding holidays. The area is overshadowed by the Lanín volcano, rising to 13,000 feet. The 15,000 acres support 900 head of Hereford cattle and 400 acres are irrigated for alfalfa production. The landscape is made up of scrub-covered hills and rock outcrops with a mountain backdrop. The mountains are thickly forested and range from 5-7,000 feet. The family also own Estancia El Nido, a 1,200 acre property in the mountains on the edge of Lake Lolog, and also bordering the river Quilquihue, a fast-flowing trout stream.
Activities
There is a tennis court (although most people do not find time to use it), a pool and excellent fishing on the river Alumine, which borders the property. The main activities are riding (all levels), fishing, stalking for red deer and walking. For riding Jane can cater for everyone from the expert to the beginner, and programmes are tailored to the individual's requirements. Your stay can be based entirely at Huechahue or you can do an overnight pack trip into the Lanín National Park. Horses are local criollo crosses, part Anglo-Normando, of about 15 hands, broken to the neck-reining method. Saddles are also local style, with plenty of sheepskins on top.
Accommodation
There are ten rooms, all with a private bathroom. Four are in the main house and the rest are in two nearby chalets. Food is plentiful and home-cooked, and the tap water can be drunk. Laundry is available.
Our comments
A wonderful family atmosphere, often booked up months ahead by repeat visitors.
When to go
Open September to April, although the peak time to visit is during the Argentine summer, November to April. Days are usually sunny and mild to hot, and nights are generally cool. Being in the rain shadow of the Andes it rarely rains at this time of year.
Client comments and reviews
Huechahue was quite fabulous! We loved it! Like staying on a friend's farm with a group of great people. We were only seven of us on the farm so as you can imagine we were extremely well looked after. I was given a lovely horse to ride and accompanied by the head groom on one day, and by a delightful young man who works for Jane, on the other day (I didn't want to go galloping flat out round the countryside with the rest of them!). The room was very very comfortable, the food was excellent and Jane joined us on a few evenings so wine flowed and plenty of laughs were had. Jane was very concerned on the odd day that I just stayed put, in case I was bored! But we were more than happy to just go for a walk, sit under the trees and read our books and basically just relax, get over our long journey and take it easy. It was lovely and you never know, if we can we'd be more than happy to go back again. Jane is a great person and I admire her immensely. - PV (January 2017)
You had told us everything about Huechahue and the Ride Across the Andes except how good the food would be ? even in the middle of nowhere and all done on a camp fire. What a fantastic holiday. Amazing from start to finish. From being met at Bariloche airport to all on the ride - everyone was so friendly. Fell in love with my horse and Jane had matched us both perfectly. We both agreed it was the most stress free holiday we have ever been on and we cannot thank you enough. Am already on the website looking for the next riding trip. Any suggestions? It will have to be good to beat this one. Thank you. - AJ (November 2010)
Huechahue was once again great fun. There are always surprises there and Jane always takes them completely in her stride! - JO (January 2009)
Jane's rides are always among the best, the horses are great and the food is always good, even when you are camping, but this time on the Estancia to Estancia ride there was the pure luxury of hot showers and proper beds every night! - MT (October 2008)
We loved Huechahue and really had a blast riding, something we never would have done otherwise. We will continue to ride and I bet we will return to Huechahue. - AP (January 2007)