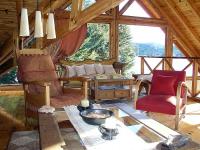 Posada La Escondida
Location
Villa Pehuenia, 225km north of San Martin (San Martin de los Andes, Argentina)
Description
A small hotel on the shores of Lago Aluminé near Villa Pehuenia and only 5km from the Chilean border. The restaurant has lovely food and good views of the lake. Communal areas are comfortable and are great places to relax.
Activities
Visit local Mapuche villages and the lovely monkey puzzle forests.
Accommodation
There are only 8 rooms in the posada, all very warm and comfortable. The bathrooms overlook the lake.