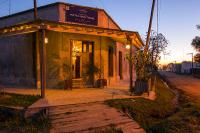 La Alondra-i
Location
Northern Iberá (The Iberá Marshlands, Argentina)
Description
In the small village of Concepción de Yaguareté Corá, this family home, originally a warehouse of leather-made items, has been carefully restored and refurbished. There is a dining room, barbecue area around an internal courtyard, and a cosy sitting room.
Activities
A selection of guided activities are available and include visiting the local town, boat trips to view the wildlife of the Iberá marshes, riding, and walking.
Accommodation
There are four traditionally-furnished rooms, all with a garden view, air-conditioning and a private bathroom.
Our comments
Very unusual, and a step back in time.
When to go
Year round, but can be very hot from November to January.
Client comments and reviews
La'Alondra has an excellent position for wetlands south and north. The manager, Leslie, spoke excellent English (Scottish grandfather), is a passionate ecologist and conservationist, and took us on two very good wetland adventures, including aspects of Guarani culture. He and the staff were very friendly and helpful. The décor is dated but our room was comfortable with air-conditioning. The breakfast was limited but the dinner was excellent, with wine only available by the bottle, not the glass! Credit cards are not accepted. - HH (February 2018)