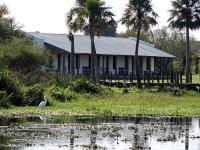 Posada de la Laguna
Location
Southern Iberá (The Iberá Marshlands, Argentina)
Description
A lovely family-owned lodge set in 4 acres on the edge of the Iberá Lagoon. The main house has a dining room, living room with open fire and bar. There is a swimming pool at the back of the house, overlooking the lagoon. All meals are included.
Activities
A wide variety of excursions can be organised locally, for example riding and fishing. Guides are available to take guests on wildlife viewing trips by motor boat or on foot, and there are also kayaks for guests to use.
Accommodation
8 comfortable rooms (all en-suite).
Client comments and reviews
Loved Ibera - Elsa and team excellent and boat rides (especially at night) wonderful. Only problem is remoteness and bad roads again to next destination. - JW (February 2010)
The quality of wildlife activities and guiding at Posada de La Laguna was fantastic. Ibera is really amazing - teaming with wildlife and birds and presenting so many photo opportunities for even the most ignorant wildlife viewer. - SW (February 2009)