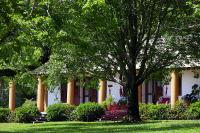 Puerto Valle
Location
Northern Iberá (The Iberá Marshlands, Argentina)
Description
A comfortable, small lodge in the north-east corner of the Iberá Natural Reserve, on the banks of the Paraná river an hour's drive from Posadas. Set in 14 hectares of landscaped gardens the main lodge (casco) is a traditional Corrientes ranch house built in 1868, which has been fully refurbished. There is a library and a sitting room and the restaurant serves typical food, with many of the vegetables grown in the organic vegetable garden. Outside is a pool, a thatched relaxation area and a quincho (barbecue hut).
Activities
Many different species of birds, alligators, monkeys, capybara, pampas deer, marsh deer, river otters and wonderful butterflies inhabit the area. Boat excursions on the Paraná river, kayaking, the use of bicycles and excursions on foot are included. Riding can also be organised locally.
Accommodation
All deluxe bedrooms have a river view and have been stylishly decorated.
Client comments and reviews
Our favourite hotel was definitely Puerto Valle where we were fed more food than you need and were taken on some fantastic, contrasting trips: kayaking, boat trip, a visit to a local tea plantation, and a sunset trip to see capybara at the company's wetland reserve. - JW (November 2022)
Puerto Valle is just heavenly. The place, the staff, the incredible wildlife, the food, the activities. We absolutely loved it. So personal and intimate. - VG (November 2019)
Puerto Valle was lovely - a great place to spend a couple of nights and see the howler monkeys, go riding (their horses are great for both beginners and expert riders) and just generally relax in an incredibly peaceful environment. They had some lovely touches, such as giving you a different drink every time you finished an activity. - JS (February 2018)
Puerto Valle was outstanding in every way. Superb setting on Parana with very good pool and grounds. The manager was very helpful and efficient, and spoke good English. We had an excellent tour to the wetlands and our guide found us a vast array of birds and animals. Our room was large with excellent facilities and the food very good. Our only complaint was that the wine was very expensive! - HH (February 2018)