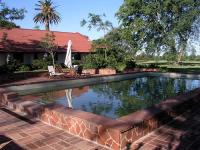 Rincon del Socorro
Location
Southern Iberá (The Iberá Marshlands, Argentina)
Description
A wonderful estancia on the southern edge of the Iberá wetlands. The 12,000 hectare former cattle ranch was acquired by the ecologist Douglas Tompkins together with two other local estancias in the area (Batel and San Alonso) and converted into a private nature reserve. The main building features a comfortable lounge, with plenty of information on the surrounding wildlife and environmental issues, a well-stocked bar and dining room. Outside is a small pool and separate building for barbecues. Food is excellent, all organic and home grown in the impressive kitchen gardens. Access to the estancia is via a gravel road from either Posadas or Mercedes, or by private plane.
Activities
Activities range from guided walks and boat trips through open channels to riding and biking within the grounds. If their plane is at the estancia, visits to Estancia San Alonso, on its own island deep within the wetlands, or to the working Estancia Batel can sometimes be arranged.
Accommodation
There are 6 immaculate en suite rooms in the main building and 3 cabins within the grounds.
Our comments
A wonderful estancia that really stands out in terms of quality and wildlife (over 300 species of birds alone).
Client comments and reviews
Rincon del Socorro lovely, the staff were all very helpful although it was difficult to get a pre-dinner drink as only the guide and one other girl knew how to pour anything! Good variety of food and Rosetta our guide was great, loved the lagoon and had several good horse-rides. Luis looks after his horses very well. Super spot and maybe we should have gone over to other ranch but we enjoyed everything so did not seem any point. - MC (March 2008)