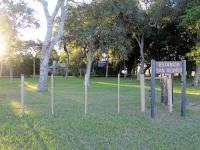 Estancia San Alonso
Location
Northern Iberá (The Iberá Marshlands, Argentina)
Description
A simple island estancia deep in the heart of Iberá, surrounded by an intricate slow flowing river system and vast expanses of marshland. The main building is surrounded by acacia trees and green fields. There is an airstrip allowing for easy access from nearby Posadas and Corrientes.
Capacity
10 guests plus pilot quarters
Activities
The ranch itself is still in operation with a few hundred cattle, and riding is available, although the main attraction is fly fishing. The prize is the golden dorado, an elusive fish but an excellent fighter. All fishing is on a catch and release basis. Bird watching and wildlife spotting is excellent in this remote location.
Accommodation
The rooms are basic but clean and comfortable. There is no mains electricity on the island but electricity from the generator is available between sunset and 11pm. One room is en-suite but the others share one bathroom between every two rooms. There is a netted seating area, dining room and patio.