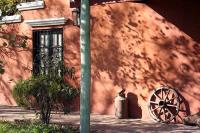 Estancia El Rosario de Areco
Location
San Antonio de Areco (The Pampas, Argentina)
Description
Around 1 hour 45 minutes north from Buenos Aires. Owned by the Guevara family, the main house was built in 1892 and the estancia has 200 acres. The sitting room has a huge open fireplace. There are two polo fields and a pool.
Activities
You can take private polo lessons.
Accommodation
14 rooms with en-suite bathrooms. Most of the rooms are converted old stables with tiled floors, ceiling fan, heating and shower.