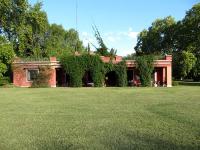 Estancia La Bandada (ex Candelaria del Monte)
Location
San Miguel del Monte (The Pampas, Argentina)
Description
Around 1 hour 30 minutes south of Buenos Aires. The estancia is a family owned and run house, set in a beautiful park, with sycamore, Ginkgo bilobas, elms, a variety of pine trees and a swimming pool. The brick built house is of colonial design and traditionally furnished with many antiques.
Activities
Riding, carriage rides, bird-watching and general estancia activities. You can also watch (or take part in) polo (in season) at the neighbouring polo training centre.
Accommodation
There are 7 comfortable bedrooms: the Owner's Suite (Suite Picaflor) with an open fireplace and double bed, Suite Hornero with an open fireplace, double bed and private access, and Suite Cardenal with twin beds. Apartamento Las Garzas and Apartamento Las Tijeretas both have two rooms, with one bathroom and a shared living room, ideal for families.
Our comments
Good food and warm friendly atmosphere.
Client comments and reviews
We very much enjoyed our stay here and the staff were extremely nice and welcoming. Food was good, varied and all home cooked. We had great fun riding and "rustling" the cattle-sadly D lost the herd at the crucial moment! Pool was a bit cool and mostly shallow. The only real bugbear was no internet [phone signal dodgy]. - GW (October 2013)