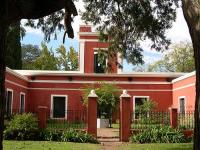 Estancia La Bamba
Location
San Antonio de Areco (The Pampas, Argentina)
Description
Around 1 hour 45 minutes north from Buenos Aires. A traditional estancia dating back to 1830, when the main building was used as an old posthouse on the Camino Real (Royal Road), that joined Buenos Aires with the North of the country. The main colonial house has a watchtower, covered verandas, interior patio and a lovely sitting room, which leads to the dining room where guests dine communally. The gardens are well kept, there is a outdoor pool and quincho.
Activities
Riding, walking, carriage-rides around the estancia and bird watching. A visit to the town of San Antonio de Areco can also be organised.
Accommodation
There are 12 comfortable rooms, all with private facilities.
Our comments
This traditional estanica in the heart of the Pampas is one of the easiest to reach from the city. Rooms are well-appointed and guests are well looked after. The property succesfully combines colonial elegance with serene comfort.