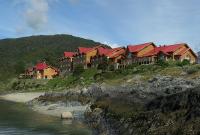 Los Cauquenes
Location
7km from Ushuaia (Ushuaia, Argentina)
Description
A very comfortable and warm hotel 7km from central Ushuaia in a residential district. Facilities include a restaurant, living area, indoor/outdoor heated pool and a Jacuzzis on the large outside decking platform with views of the Beagle Channel.
Activities
Visit Lapataia National Park, visit Ushuaia or take boat trips on the Beagle Channel. You can also arrange riding, year-round skiing, sledding with huskies, birdwatching and fly-fishing locally.
Accommodation
54 rooms have modern décor and private bathrooms. There are 5 suites which are larger and some have a discreet sitting area.
Client comments and reviews
Los Cauquenes is a really lovely hotel to stay at. The rooms were large with a great view. The facilities ? Spa, Gym and Pool were very good. The meals were excellent with a choice of bar or restaurant (the bar had a nice log fire on the go). The staff were very caring and made customers feel like individuals. There was a shuttle service to the town but taxis are really cheap anyway. We can?t recommend it highly enough. - DO (November 2009)
Los Cauquenes is wonderful as you have unrestricted views of the channel from all the windows, and swimming and lounging in the hot tub overlooking the channel was a highlight. It is right on the edge of town but they run a shuttle bus in at various times during the day. - RS (November 2009)
The Hotel Cauquenes at Ushuaia was also excellent. The food here was particularly good and the views from the bar across the Beagle Channel was wonderful. - SL (November 2008)