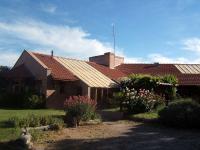 Posada Los Mimbres
Location
Gaiman (Valdés Peninsula, Argentina)
Description
On a 53 hectare farm just 6km from the town of Gaiman in the green Chubut valley. The original house dates from 1879 and has been lovingly converted into guest accommodation. Meals are home-cooked using local produce and a peaceful river runs along the back of the garden. The sitting room is full of interesting books about the local area and Patagonia in general.
Activities
The Bryn Gwyn Paleontological Park, in the arid, dry desert surrounding the lush river valley is very close, and is full of fossils. Gaiman is a pleasant town to visit with a very unusual museum made by an elderly resident from recycled rubbish, as well as the traditional tea-rooms and chapels.
Accommodation
Three comfortable rooms, each with a private bathroom. The main house (where the family lives) is modern and also very comfortable and there are additional rooms in this building which can be used for guests if they prefer.
Our comments
The family gives very personal attention to each guest, and the food is delicious. A delightful spot in which to relax and explore this fascinating part of Patagonia, with particular reference to the Welsh settlers from the 19th century.
Client comments and reviews
Los Mimbres is a bit old fashioned with small rooms, but perfectly comfortable with a lovely setting and gardens. Our hostess was charming (and talkative) and dinner very good. - GB (December 2018)
What wonderful hospitality we experienced at Posada Los Mimbres! - AP (November 2007)
What a lovely, peaceful place to stay in Chubut - we wished we could have stayed longer. The owner was so helpful and friendly, and the food was delicious. We were torn between relaxing in the gardens, walking down by the river and exploring the nearby Welsh chapels and tea-rooms. - JF (November 2006)