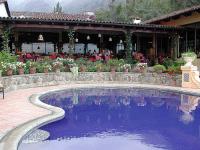 Hotel Atitlán
Location
Panajachel (Lake Atitlán, Guatemala)
Description
The hotel is on the outskirts of Panajachel, by the lake. There are pretty gardens, a restaurant and a pool with lovely views over the lake.
Activities
Walk around the lake, take a boat trip to visit one of the 12 villages, or try kayaking.
Accommodation
Around 60 rooms, all with private balconies with views over the lake or the beautifully manicured gardens. All rooms are decorated using local textiles and artefacts.
Client comments and reviews
The master suite at Hotel Atitlan was enormous with wonderful views over the lake and gardens. - AD (February 2007)
Service a bit slow at times but very impressive garden. - JW (January 2007)