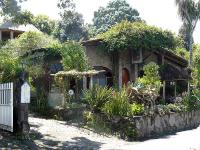 Posada de Santiago
Location
Santiago de Atitlán (Lake Atitlán, Guatemala)
Description
A friendly hotel with character on the lake shore, just 5 minutes from the main port, with its own launch. There is a rustic style restaurant, a pool, hot tub and pretty garden.
Activities
Alongside the activities on the lake, the hotel has bikes available to hire.
Accommodation
12 simple rooms in individual stone cottages.
Our comments
A good value option.
Client comments and reviews
The Posada de Santiago was very comfortable and the food was good. Lake Atitlan was absolutely beautiful. - SH (February 2011)