Welcome to an early summer update from Last Frontiers. What a rollercoaster few months it has been - with volcanic ash drifting over us and then another British Airways strike series. I am frustrated to see that the insurance industry has still not reacted positively - they continue to insist that travellers won't pay for fully comprehensive cover and are, in our view, missing a trick.
The Last Frontiers team (minus Tracy who was stuck in Madrid on the way back from Brazil!) worked tirelessly to make sure our clients who were stuck in Latin America were well looked after and brought home as swiftly as possible. For many who were unable to get away on time their trips have been re-scheduled, and for those who had booked their full trip with us (including international flights) and were unable to rebook for a future date we gave a full refund - the advantage of booking with a fully bonded tour operator! Thank you all for your patience and understanding.
In this issue (which focuses on birds, beasts and boobies - a round-up of Latin America's wildlife highlights):
Last Frontiers - open for business!
Lizzy in the Falklands
Ali in Guyana
Tracy in Brazil
Sue in the Galapagos
Blue whales off the coast of Chile
Diving with whale sharks
Pantanal adventure
Turtles in Costa Rica
Last Frontiers - now we've officially moved!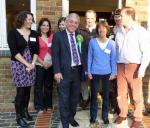 The Mill, Waddesdon
On 15 April we celebrated the official opening of our brand new office, a converted corn mill on the edge of Waddesdon village, with an evening reception and exhibition of some of our favourite photographs of Latin America (many provided by our past clients). The Speaker, John Bercow MP, took time out of his busy schedule to snip a ribbon and say a few kind words about us.
Last Frontiers in the news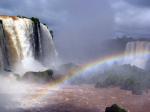 Rainbow over Iguassu
Writing in the Telegraph, James Studholme described his family's adventures at the Iguassu Falls, the latest edition of Wanderlust has a round-up of Ecuadorian Amazon lodges, and August's Condé Nast Traveller features our very own Sue as their Galapagos expert.
Lizzy in the Falkland Islands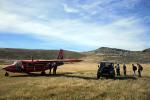 Carcass Island airstrip with FIGAS plane
I was lucky enough to visit the Falkland Islands in March, a new destination to Last Frontiers. The islands offer rural and unsophisticated tourism - lodges are often original farmhouses on islands that are privately owned and with only a few rooms available to tourists; so in each place one often has a whole island to explore along with only a handful of other people... but with a few hundred penguins!
Flights between islands are on small 10-seater bright red aircraft, with airstrips managed by the locals, and as there are few roads overland journeys are done by land rover. Accommodation is B&B style but with all meals included (ready for your treks to the wildlife spots), and there are also a few self-catering options.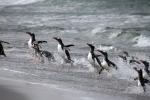 Gentoo penguins heading home at dusk
The highlight of the trip has to be the sight of and interaction with the penguins - the main species are Gentoo, Rockhopper, King and Magellanic. Macaroni penguins can also be seen occasionally. One can also hope to see black-browed albatross, steamer ducks, various species of geese, striated caracara (one of the worlds rarest birds), elephant seals, sea lions, orca and dolphins. Areas are not as restricted as they are in some other places so you don't have to worry about keeping to paths, but respect what you see and keep a distance - you often find that the wildlife will come to you! Having expected the landscape to generally be rather monotonous I was surprised at how beautiful and unspoilt it actually is. I also found myself unexpectedly becoming interested in the 1982 conflict history side of things. Furthermore, I met a few keen fishermen who have been fishing in the islands numerous times and I am told the sea trout fishing is excellent.
The best months to visit are October to March; with the height of the summer being at its windiest, but with longer days.
Please have a look at our new suggested one week Falklands itinerary on our web site.
Ali in Guyana
Lilies on Grass Pond at Rewa
Having studied zoology at university I was eagerly awaiting a trip to Guyana to see if I could spot the elusive jaguar. My first day was a great introduction to the country - an overflight and walk around the crater of the majestic Kaieteur Falls where we saw some golden frogs. The falls really are spectacular! The main reason for my visit was to try out two new areas in Guyana, both of which became my highlights of the whole trip. Rewa is accessed by boat from near Annai and is in the same area the BBC programme Lost Land of the Jaguar was filmed. It is very simple accommodation but beautiful scenery. Watching the birds, bats and flowers on Grass Pond in particular was a memorable experience. Nappi is another village which is a new area for tourism. Access to Maipaima Ecolodge is by 4x4 through the forest on a narrow dirt track - quite an adventure! Without a doubt the main reason to visit this area is to hike to Jordan Falls. This is a tough trek through primary rainforest and crossing streams but the reward of taking a dip in the falls after a four hour hike is well worth it. Throughout my time in Guyana I did see a lot of wildlife including howler monkeys, spider monkeys, caiman, giant river otters, harpy eagle, cock-of-the-rock and many more birds. Sadly the jaguar remained elusive but it is a good excuse to return one day!
Tracy in Rio and Iguassu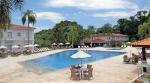 The new pool at Hotel Das Cataratas
I was thrilled to be back in Brazil in April and experience the wonderful hospitality of Orient-Express at the luxury Copacabana Palace hotel, which is still oozing style and charm yet has a relaxed feel. Like real cariocas we danced samba at Rio Scenarium, rode bikes along Copacabana beach on Sunday when they close the road to traffic (great people watching too) and tried on this year's Carnival costumes at the sambadrome! Continuing to Iguassu Falls I was really excited to see the complete refurbishment of Hotel Das Cataratas, the only hotel in the Brazilian National Park with views of the falls. This really is the place to stay as guests at the hotel have exclusive access to the falls when the National Park is officially closed, and with Orient-Express now operating the hotel it is a very comfortable base. I was able to try some of the different tours that our clients can do - the helicopter over the falls, a visit to the bird park and jungle walks but the Macuco safari was unbeatable (even though we got absolutely soaked and my sunglasses are now somewhere in the Iguassu river!). Crossing over briefly to Argentina I visited a couple of new hotel options and for somewhere completely different Posada Puerto Bemberg is lovely. A very small hotel on a family estate this is a great place to relax, read or go for walks and you can visit the falls as a day trip too.
Sue in the Galapagos on Eclipse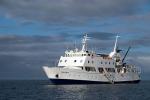 Eclipse
As a wildlife enthusiast I was very lucky to have the opportunity to return to the Galapagos for a third time. Each visit has been at a different time of year and they have all more than lived up to expectations. Although the wildlife/unique species seen does vary slightly during the different seasons there is never any shortage. I was there in March, the water was warm and the snorkelling particularly good - there is nothing quite like swimming with giant turtles, penguins, sealions, white tip sharks, marine iguanas, rays and huge shoals of colourful fish. The land visits were also excellent and after an unusual amount of rain earlier in the year the animals, especially the land iguanas and giant tortoises, in the highlands on Santa Cruz, looked very healthy. The waved albatross had not arrived on Española island, as we were slightly too early, but the Nazca boobies feediing their chicks were in abundance. The albatross start to arrive in April and remain on the island until January.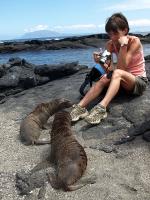 Sue with friendly sealions
I went on a 7 night cruise on Eclipse and had a wonderful week. She carries 48 passengers and was very comfortable and spacious. Everything was very well organised, she has a good itinerary, the guides were excellent, the food good and, with 4 naturalist guides and 4 pangas, group size on an excursion was never more than 12. There was a range of optional excursions at each visitor site, including kayaking where possible, giving everyone the opportunity to participate. She also offers family departures at certain times of year and this year has a special Photo Safari (20-27 November) with photographer Jonathan R Green, a Fellow of the Royal Geographic Society in London. All bookings for the Photo Safari made by 30 June will receive a discount of US$500 per person.
We do also work with a range of other boats, most smaller and less luxurious than Eclipse but still offering a wonderful experience with good guides and itineraries. A couple of our favourites are Samba, who carries only 14 passengers, and is very good value and Mary Anne, a beautiful motor-sailer which carries 24 passengers.
Blue whales off the coast of Chile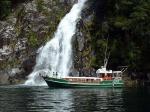 Cahuella
One of the most important feeding and nursing grounds of the blue whale has recently been discovered just off Chiloé Island in the Gulf of Corcovado in southern Chile. Work is now under-way to create the Chiloé Marine Conservation Area, a huge expanse encompassing the entire west and south coasts of the island to protect the largest population of blue-whales in the Southern hemisphere, a species almost hunted to extinction in the 20th century. A number of companies are now offering whale-watching either as daytrips from the mainland such as the Cliffs Preserve or as part of longer sea cruises such as on board the Cahuella who are offering dedicated 4 day/3 night wildlife and whale-watching trips in April - please contact us for more information.
Diving with whale sharks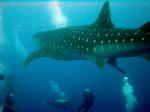 Whale shark (Toby Short)
Throughout March to June, large numbers of whale-sharks head to the coast of Belize to spawn and mate providing visitors with a once in lifetime opportunity - to swim with the world's largest fish. Placencia offers the best chance of observing the sharks and there are a number of hotels that offer special itineraries.
If this is too early in the year, you can always catch up with the sharks in Mexico between June and September when their annual migration takes them from Belize to Isla Holbox, a protected island of mangrove and idyllic beaches just off the Yucatan Peninsula. Isla Holbox has avoided the large scale tourist development of the mainland and sharks aside, boasts over 150 species of birds including frigate birds, roseate spoonbills and flamingos. Hotels are simple, and we like the charming Casa Sandra and the Xaloc Resort.
Pantanal adventure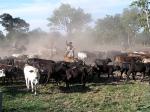 Cattle in the Pantanal
The Pantanal in central Brazil is wonderful for some fascinating creatures, particularly the giant river otter, the howler monkey and the enigmatic and elusive jaguar. Bird life is also prolific in these beautiful and vast wetlands, with chances to admire the iconic jabiru stork, the endangered hyacinth macaw and the colourful toucan - there are over 700 bird species to spot. It is very much cowboy country too and a 3 night stay often allows the visitor a glimpse into the traditional way of life of the Brazilian farmer. There are a range of lodges and fazendas to chose from throughout the region; have a look at some of our favourites, Mutum Lodge and Aguape to see how a visit to the Pantanal might complement the more obvious attractions of beach and culture during a holiday to Brazil.
Turtles in Costa Rica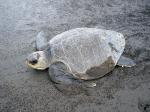 Olive Ridley turtle
Green turtles come to the village beach of Tortuguero National Park almost every night during the summer months of July and August, so this is a wonderful region to include in a holiday to Costa Rica around this time. To see how such a trip might work, have a look at the Classic sample itineraries on our website. There are plenty of chances to see these beautiful and enigmatic creatures in various parts of Costa Rica if you are lucky or patient!
Olive Ridley turtles traditionally visit Costa Rica to nest from July to November, although recently October has been the best month for turtle spotting, particularly in Ostional in northern Guanacaste. In Playa Grande on the Pacific coast, the nesting period for leatherback turtles runs from mid November through to February, and leatherbacks also nest in Las Baulas National Park between February and June.
With best wishes from Edward and all at Last Frontiers
Edward Paine
Last Frontiers Limited
Email: info@lastfrontiers.com
Web: www.lastfrontiers.com
Tel: 01296-653000
"While every section/destination was different, they all exceeded our high expectations and it is simply not possible to choose the 'best' one. We have nothing but the highest praise for the care and attention to detail, both before and during the trip."