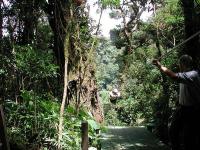 To the south, and reached by a twisty road, is the Monteverde Cloud Forest Reserve, home to more than 400 species of birds. Heading west from Arenal you drop down into the dry heat of Guanacaste's savanna.
Our preferred accommodation
Lodge/Hosteria - Monteverde

A very comfortable lodge with a good atmosphere. The grounds are lovely and offer excellent wildlife and birdspotting opportunities. The restaurant and bar area are cosy and the food is very good (complimentary tea and cake are served each afternoon).

Lodge/Hosteria - Monteverde

A family run hotel within walking distance of the Monteverde Reserve. There are lovely gardens, good food and the service is friendly.