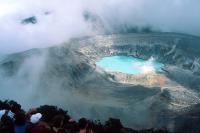 The Central higlands, due both to its altitude and mineral-rich volcanic soil, is the ideal place for coffee-growing. The heartland of Costa Rica, it is home to more than 60 percent of the population.
From San José it is less than 40 miles to Poás volcano, passing through the pleasant town of Alajuela and coffee plantations before climbing up into dwarf cloud forest. When free from clouds, the smoking crater and its turquoise lake are an amazing sight.
Our preferred accommodation

means that the hotel is one of our Dream Destinations.