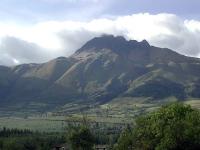 About 100km from Quito, in lovely countryside near San Pablo lake, is the market town of Otavalo. On the way one passes the snow-covered Cayambe volcano, the highest point on the Equator. The famous Otavalo daily market (biggest on Saturdays) is a major attraction with a vast array of produce and handicrafts on show.
Near Otavalo are several small artisan towns like Cotacachi, where leather goods are made and sold. Most visitors stay in one of the historic haciendas in the area.
Our preferred accommodation

means that the hotel is one of our Dream Destinations.
Hacienda - near Otavalo

The hacienda is 70km north of Quito. Dating from 1602, with a cobbled courtyard, antique furniture and wonderful gardens, it is full of history.

Hacienda - near Otavalo

85km north of Quito in the Zuleta Valley. A beautiful colonial, family-run, working hacienda set at 2,800m with lots of history, in the tiny village of Angochuagua. It is set around a couple of cobbled courtyards, lined with geraniums, with lovely views up the valley and there is a tiny chapel, cheese factory and impressive organic vegetable garden. There is a wonderful sitting room with an open fireplace and the food is good.