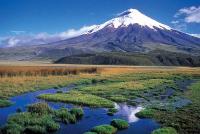 About an hour south of Quito is the Cotopaxi National Park, which surrounds the world's highest active volcano. Near the eastern flank of the park are some large haciendas whose annual cattle round-ups are an attraction for intrepid riders. There are also several important markets, such as Saquisilí, Pujilí and Zumbahua.
Papallacta, a village 64km east of Quito, offers spectacular and contracting scenery, from the páramo (steppe) to humid cloud forest. It is most famous for its natural thermal baths set amidst beautiful surroundings and also offers good walking and bird life.
Our preferred accommodation
Hacienda - Cotopaxi

Traditional Ecuadorian hacienda, at the foothills of Rumiñahui Volcano, 4km from Cotopaxi National Park. The hacienda has 4,500 hectares of land and stunning views. The restaurant is cosy and serves good homely Ecuadorian food.

Hacienda - Cotopaxi

Situated at the foot of the highest active volcano in the world, Cotopaxi. The colonial hacienda is on the site of an important Inca palace, with views of Cotopaxi and Chimborazo. Cobbled courtyard, gardens and sitting rooms for reading and relaxing. Good cuisine and hospitality.

Resort - Papallacta

A thermal spa resort 60km east of Quito in the highlands between Cayambe and Antisana volcanoes. There is a restaurant with steamed trout as the local speciality.