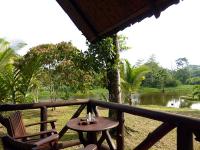 Maquenque Eco-Lodge
Location
Boca Tapada (Arenal and the North-east, Costa Rica)
Description
A family-owned jungle lodge, built within the Maquenque National Wildlife Reserve and surrounded by tropical rainforest. The lodge is just north of Boca Tapada and access is by boat across the San Carlos river.
Activities
There are a number of private trails which can be explored with or without a guide. Canoes and horses are also available to hire.
Accommodation
There are 14 separate bungalows, each within walking distance of the main building. Each has a private bathroom with hot and cold water, a ceiling fan, and a private terrace.
Our comments
The lodge has a restaurant and bar, swimming pool and botanical garden. The owners are wonderful hosts and make you feel at home as soon as you arrive; combined with the abundant wildlife in the region, this all make for a fabulous stay.
Client comments and reviews
Maquenque Eco Lodge was amazing. We managed to dodge most of the rain and enjoyed the canoes, the nature walk and the Boca San Carlos river trip as well as just sitting on our balcony or in the pergola, watching the birds. - GD (November 2018)
Maquenque proved to be the highlight of the holiday and we would have been happy to have stayed longer We were not prepared for quite such a bumpy two hour journey getting there, although you did mention the unpaved road, but the birdlife at the lodge was amazing and we spent most of our time taking photographs from the lounge and restaurant. The accommodaiton with a balcony overlooking the lake was also very nice. - TM (February 2017)
It was certainly a bumpy ride to Maquenque, but it was worth it and we saw more birds in the first 30 minutes we were there than in the rest of the holiday. - PW (February 2017)
This was one of our most favourite places that we stayed, it was great and so quiet and relaxing. The Eco Lodge was basic but clean and mosquito safe and the view onto the lagoon was lovely. Food was always good and plentiful and they hung bananas out so you could watch all the colourful birds as you ate. We did the jungle tour and plant a tree which was included. We paid extra and did horse riding, boat tour and the night tour. Staff were very helpful and friendly. We would highly recommend this place. - AS (February 2016)
Most definitely the highlight of our holiday were the four activities we crammed in here with a brilliant guide. We did the nature walk which was included in our stay, plus a night walk, an early birdwatching tour and and a boat tour. We were lucky and saw many animals - frogs, snakes and birds, it was brilliant. The hotel itself is quite basic but it did the job fine and the food was tasty. - MR (December 2015)
The highlight for us was Maquenque, the place to get wet and muddy and spend all day in boats and the forests. The park is incredible and the people were amazingly friendly and knowledgeable. To see crocodiles, toucans (and other amazing birds), poisonous frogs, monkeys etc etc was mindboggling. It rained alot, but that's par for the course. We did everything we could and were quite tired by the end of our three days there. We really felt at home and the kids were treated so nicely by the people there, I was very touched indeed by their kindness. - LVF (February 2015)