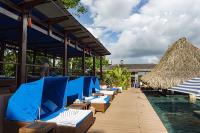 Arenal Nayara
Location
Arenal (Arenal and the North-east, Costa Rica)
Description
One of the most stylish hotels in the area, with wonderful views to Arenal volcano. The resort is divided into two sections, connected by a treetop bridge: Nayara Resort, Spa and Gardens (family-friendly) and Nayara Springs (no children). There are 3 swimming pools, 3 hot tubs, a gym, a yoga deck and a number of wildlife trails. Arenal Nayara has 4 restaurants, a café and a wine bar.
Accommodation
There are 85 sleek casitas spread throughout well-kept grounds. Each casita has a king or two double beds, an indoor and outdoor shower, and a jungle-facing terrace, some of which have views of the volcano. The Rainforest villas have a hot tub on the terrace, and Spring villas have a private plunge pool (springs villas are in the adult only section of the resort).
Our comments
A very comfortable hotel with elegant decor, lovely views and lush gardens. Certainly one of our preferred options around Arenal.
Client comments and reviews
It was certainly a smart set up. Our room was very spacious, with a nice plunge pool but it was in the middle and it felt slightly 'hemmed in', with the buggies going past on both sides. I would have preferred a room with a view of the volcano, but it was much quieter on the 'no children' side which we appreciated. The pool was very nice and we had excellent breakfasts at the Mis Amores restaurant which had a spectacular view of the volcano, and good bird viewing opportunities. I really enjoyed their 'sanctuary' and walked in their early every morning (hardly seeing a soul) and saw a sloth, wild pigs and lovely birds – it was a good addition to the place, it felt completely safe and there weren't too many creepy crawlies either!! They are building extra accommodation next to this for next year, so I hope that the sanctuary is not spoilt by the extra people coming in. The hotel is larger than I would normally have liked but that made for interesting people watching, and the benefits of the place outweighed this. There were enough quiet places to get away too. - AB (February 2019)
I think the highlight was staying at the Nayara Springs hotel and visiting the hanging bridges. Our guide there was excellent and showed us how to photograph wildlife through a spotting scope. - ST (July 2018)
Arenal Nayara was probably our favourite hotel, although we weren't impressed with dinner so ate in Fortuna on two nights. Xandari and Alma de Pacifico were close seconds. - GF (August 2011)
Fantastic hotel with friendly, helpful staff. We had a jacuzzi with volcano views (and saw the lava flows). The gardens were lovely and apparently designed by a top designer. - AM (August 2008)