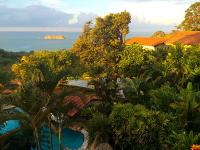 Si Como No
Location
Manuel Antonio (Manuel Antonio and Uvita, Costa Rica)
Description
On the road to Manuel Antonio National Park, 4km from Park entrance with 3 swimming pools, jacuzzi and views down to the sea. The hotel has been built around the trees and vegetation, keeping the 'natural' feel.
Activities
On the opposite side of the road the hotel owns a private nature reserve and butterfly botanical gardens. Excursions into the National Park.
Accommodation
58 rooms graded on their view of the ocean/jungle.