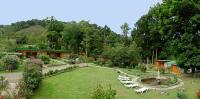 Savegre Lodge
Location
San Gerardo de Dota (San Gerardo de Dota, Costa Rica)
Description
A well established and well run lodge surrounded by beautiful, lush cloud forest. The main building has a good restaurant and bar area, with rooms scattered in the gardens.
Activities
Bird watching, nature trails, riding, walking, visiting local waterfalls and visiting the Cerro de la Muerte (the Mountain of Death!)
Accommodation
All rooms are comfortable with a terrace outside and most have baths.
Client comments and reviews
Savegre Lodge was more basic than the exceptional standards of the other accommodation, and the food was less reliable (it was better in the bar than in the restaurant). Its big advantage was the guide, who was exceptional – he found the Quetzels, and also created a bird garden around his house next to the Lodge that was stunning. I think the trade-off between luxury and the quality of the guide worked out well. - JJ (September 2019)