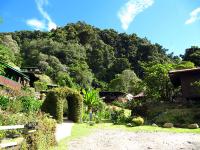 Trogon Lodge
Location
San Gerado de Dota (San Gerardo de Dota, Costa Rica)
Description
A simple lodge on the banks of the Savegre river, surrounded by pristine forest and an excellent base for bird-watching. The lodge is made up of 26 rooms, a separate bar, restaurant and ponds where they farm rainbow trout (served fresh every night).
Activities
The main activity in the area is bird-watching with high chances to spot the beautiful Resplendent Quetzal and daily tours with a local guide normally leave twice a day. The lodge can organise additional tours such as riding and zip-lining
Accommodation
Each of the rooms has a double and a single bed, en-suite bathroom and a gas fire heater as it can get cold at night. There is one suite which is slightly larger and has a Jacuzzi bath.
Our comments
Simple but comfortable rooms in a beautiful setting.
Client comments and reviews
I had a lovely room at Trogon Lodge, overlooking the river and equipped with a gas fire. The hotel provided an accurate map of trails, and their signposting was also excellent. At 5.20 am next morning I joined a small group of birdwatchers led by the hotel manager (an expert ornithologist) to see quetzals. He explained that quetzals snatch up a wild avocado while in flight and then sit on a nearby branch for at least 15 minutes digesting their breakfast. And this is why we had a wonderful view of a male quetzal eating his avocado while we stared at him and his tail and took plenty of photos. - DP (February 2017)
We really liked Trogon Lodge, it was in a beautiful setting and the staff were friendly. - KA (January 2014)
Trogon Lodge was brilliant - perhaps not as sophisticated as Dantica but great cabin, super hospitality and very good food. It is a short walk to the "Mirador des Quetzels" (the last part is up a very steep incline with nowhere to hold on properly) and I saw several Quetzals over three visits, as well as some other interesting birds. Worth pointing out to people how cold it gets at night (5C) which caught us unaware. - MF (December 2013)
Trogon Lodge was brilliant. 10/10. A great setting and lots of wildlife, especially humming birds. - MD (January 2014)