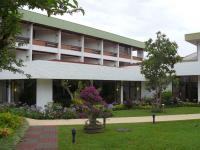 Bougainvillea
Location
Heredia (San JosÚ and surrounds, Costa Rica)
Description
A lovely hotel on the edge of San José with vast gardens and views across the city. It is not far from the international airport and an excellent base for excursions within the Central Valley.
Activities
There are many paths around the gardens which cover over 8 hectares. There are also tennis courts and a large pool.
Accommodation
The rooms are spacious and comfortable with a terrace or balcony and either a city view (pretty at night) or garden view (nicer during the day).
Our comments
A great option for short stays near the city and the gardens are wonderful.
Client comments and reviews
Hotel Bougainvillea was the ideal place for the airport - close but far away enough for tranquillity. Arriving in the early afternoon meant that we had sufficient time to enjoy walking around the delightful gardens. The food in the restaurant was delicious and our room was great, with lots of space and a good view of the gardens. - GD (November 2018)
We had a large room with two (small) double beds so ended up sleeping separately - not the best for our first night of honeymoon but on the plus we got a good night's sleep!! The grounds of this hotel were lovely and we managed a small walk before our transfer the next morning. Food was good. - AS (February 2016)
Very nice for the one night stay, lovely gardens and a splendid restaurant with a good wine list too. - MF (January 2014)
We were pleased with our accommodation, the Hotel Bougainvillea was one of our favourites - they did an excellent breakfast and had lovely gardens. - KA (January 2014)