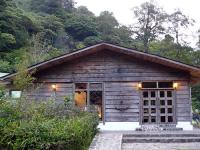 Bosque de Paz Lodge
Location
Near Bajos del Toro (The Central highlands, Costa Rica)
Description
A rustic eco-lodge in a 400 hectare private biological reserve, nestled between Poas Volcano, and Juan Castro Blanco National Park. At 1,450m above sea level, the cloud forest surrounding the lodge attracts numerous bird species, including quetzals, emerald toucanets and hummingbirds. The lodge has a restaurant, living area, and an orchid garden.
Activities
There are 20km of walking trails throughout the private reserve to explore, and an orchid garden. The area is wonderful for birdwatching, wildlife spotting and hiking.
Accommodation
A two-storey building with 12 basic but comfortable rooms. They are decorated with local artwork and pottery, and all have private bathrooms.
Our comments
A family-run lodge in a tranquil setting that is geared towards nature and the outdoors.
Client comments and reviews
We were prepared for the cold nights having been here before but the wildlife was even better that our stay in 2011. - TM (February 2017)
We loved the wildlife here. Although your recommendation to take warm clothing was appreciated I don't think we were prepared enough...it was cold! Interestingly enough even though there was no choice for lunch or dinner we both thought the food was the best of the whole trip. - AM (March 2011)
Bosque de Paz is a good chill-out place for a couple of nights. The very friendly and accommodating owner and his wife offered a service above and beyond the call of duty. Here we relaxed, even as we walked the trails in the cloud forest, and admired the many species of hummingbird that frequent the gardens and at night watched the Pacas that came to feed near the edge of the woodland. - DD (April 2009)