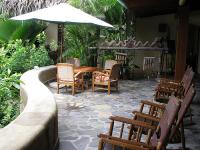 Flor Blanca
Location
Santa Teresa, Malpais (The Nicoya Peninsula, Costa Rica)
Description
A beautiful and tranquil beachfront hotel with a large pool and stylish restaurant. Perfect for honeymooners, the villas are surrounded by lush forest and the two nearest the beach have lovely ocean views.
Activities
Surfing, mountain biking, riding and bird watching. Swimming in the sea possible at low tide only (with caution!). Three minutes walk either way takes you to a golden stretch of beach with fantastic waves and bordered with tropical forest. There is a comfortable lounge in the main building of the hotel, with TV and music centre for all guests to use, and a small shop selling local handicraft. Massages and yoga available on site.
Accommodation
Ten individual and spacious villas (one and two bedroomed), built on two floors and tastefully designed and furnished. They have a lounge opening out onto a terrace and an outside (very private!) bathroom area at the back. The larger villas have a twin bedroom and bathroom upstairs. There is a small gazebo by the pool where honeymooners can dine alone.
Our comments
Children are allowed aged 13 years upwards.

Client comments and reviews
Our accommodation was wonderful, some of the best we've ever stayed at - Flor Blanca was quite exceptional. - ES (November 2011)
The Flor Blanca was truly incredible! Highly worth the cost. As you know, we left the Arenal area early because of the poor weather and were delighted when we got down to the coast and to this wonderful hotel. - JL (March 2010)