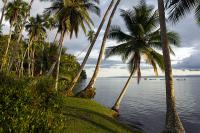 Playa Cativo
Location
Piedras Blancas National Park (The Osa Peninsula, Costa Rica)
Description
A beautiful beachfront lodge set in 405 hectares of private reserve, surrounded by the Piedras Blancas national park (a former extension of the Corcovado national park). Accessible exclusively by boat, Playa Cativo overlooks the tranquil waters of Golfo Dulce, and has a swimming pool, restaurant and numerous walking trails.
Activities
Choose from one of the complimentary on-site guided tours (visiting their organic farm, learning about alternative energy or artisanal fishing) or opt for one of their water-based activities such as kayaking, stand-up paddle boarding or snorkelling. For those interested in nature, the lodge offers bird watching, whale and dolphin spotting, night hikes through the rainforest and tours of the nearby mangroves.
Accommodation
18 beautifully decorated rooms, which are built using local hardwood and have ocean views. There are four categories: deluxe, luxury, premium, and premium plus. The premium plus rooms have a private plunge pool.
Client comments and reviews
We saw whales and dolphins on our excursion, and on our last night the hotel laid on a special dinner for us in the bar – luxury private dining. The hotel was great, and the staff were friendly and helpful. - ST (July 2018)
Playa Cativo was superb - good food, guides, lots of wildlife. - MF (December 2016)
I'm at Playa Cativo and all I can say is wow! Thanks so much for recommending ... It's one of the best places I've ever stayed and I don't want to leave! - BB (January 2016)