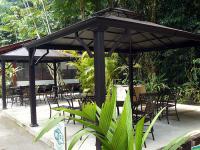 Evergreen Lodge
Location
Tortuguero (Tortuguero, Costa Rica)
Description
Sister lodge to Pachira, Evergreen is a comfortable and friendly option on the edge of Tortuguero River. There are three restaurants (each serving the same buffet), two swimming pools and the separate communal areas give the property the feel of a smaller lodge.
Activities
As well as the usual tours; a trip to the town and canals which are included in the package, the lodge has several kayaks which can be used at no additional cost and they have their own canal at the back which makes it a bit more private and safe. They are also home to Tortuguero's only zip wire canopy tour which takes just over an hour and has an additional cost. There are 13 lines and it is open until 4pm every day.
Accommodation
31 of the rooms are free standing casitas and 29 are in blocks which are better for families and all are quite simple but spacious.