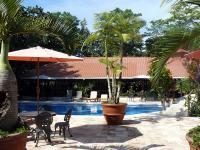 Mawamba Lodge
Location
Tortuguero (Tortuguero, Costa Rica)
Description
Mawamba is nestled on a sand bar between the Caribbean Sea and one of the Tortuguero canals, an excellent location that provides direct access to the pristine beach and canals.
Activities
The small town of Tortuguero is a short walk away and shared canal excursions are included to view the wildlife in the area.
Accommodation
The 36 rooms are basic and simply furnished but all feature private bathroom, hot water and ceiling fans. Accommodation is full board; meals are buffet style (drinks not included).
When to go
Green turtles nest along the beaches of Tortuguero from July to October. The less common Baula and Loggerhead turtles nest from December to April/May.
Client comments and reviews
There was nothing wrong with Mawamba, but the activity groups were too big for us (between 25 and 30 people for each hike or boat ride) and we didn't like being on such a strict schedule. - E&CU (July 2010)
We loved Mawamba and the journey there along the canals was great. The place had a lovely atmosphere with great food and friendly staff. - AM (August 2008)