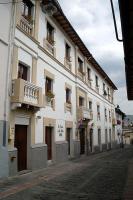 La Casona de la Ronda
Location
Historic centre (Quito, Ecuador)
Description
A small and friendly hotel on the lively la Ronda street, on the edge of Quito's historical centre. Nicely decorated throughout, there is a cosy restaurant and sitting area on the ground floor, and a viewpoint on the top floor.
Activities
Within walking distance of Quito's historical sites, including Independence Square and the cathedral. Street performers can also be found on La Ronda street outside the hotel, entertaining locals and tourists.
Accommodation
There are 22 bright and comfortable rooms, spread throughout 2 floors, surrounding a small circular courtyard.
Our comments
A lovely, charming hotel, but the area does become slightly busier at weekends.