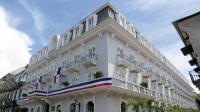 Central Hotel
Location
Casco Viejo (Panama City, Panama)
Description
A beautiful colonial building, facing the Plaza de la Independencia in the old quarter (Casco Viejo) of the city. Central Hotel opened in 1874, and was the very first hotel to open in the country. There is a restaurant, bar and lounge, rooftop pool (with view of the city), beauty salon, spa and gym.
Accommodation
The 135 guestrooms are decorated with Panamanian-style furnishings, retaining that colonial charm with modern amenities. Some rooms have a view towards the street, while others face an internal balcony.
Our comments
In a prime location for exploring the city's old quarter, with numerous bars and restaurants on its doorstep.