Caribbean islands and unique culture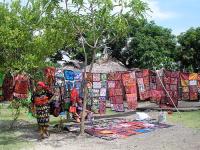 In the Caribbean, east of Panama City, the 365 palm-covered San Blas islands are governed by the native Kuna people. An Indian chief runs each inhabited island and tourists are only permitted to visit certain ones. The Kuna ladies wear amazing traditional dress and jewellery, and their embroidered pieces (known as molas) are renowned, with high prices sought for the more elaborate works. Staying in the simple palm-thatched lodges gives a real insight into local life. It is also possible to charter a yacht to sail around the area, visiting different islands.
One of the last wilderness areas in Central America and a bridge between two continents, the Darién is today a 1.2 million acre national park with a number of simple lodges. The security situation is fragile and it is only safely accessible by air (those hoping to drive the Pan-American Highway from Alaska to Tierra del Fuego have to take a ferry to Colombia at this point). An exceptional variety of habitats is reflected in the number of species of both flora and fauna, including the harpy eagle, Panama's national bird.
Our preferred accommodation
Beach hotel - El Porvenir

On the mainland, but within access of the San Blas islands Coral Lodge has 6 luxury cabins built on stilts over the Caribbean. There are 2 restaurants (indoor for evening meals and outdoor for breakfast and lunch), a swimming pool, dive shop and bar area. There is a sandy beach. linking the bungalows to the communal areas.

Sailing yacht - Corazon de Jesus (Nargana)

Pepita is a safe catamaran because of her light displacement and speed under sails. Gilbert is the French captain who has been sailing in the islands for many years and as such he knows many of the Kuna families. He speaks excellent English and Spanish. Adeline is the French hostess who provides all the meals, often with the catch of the day. All meals and drinks are included.

Inn/Posada - San Blas Islands

Set on the island of Uaguitupu, reached by canoe from the nearest airstrip at Achutupu. There are 12 simple cabins around a large grass area (with volleyball net!). The main communal area, where there is a bar and meals are eaten, is a wooden building with traditional thatched roof. There is plenty of space to relax outside but no beach.