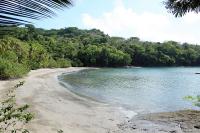 The Pearl Islands are a pretty archipelago of 103 islands off the Pacific coast. There is excellent diving and sport fishing, and humpback whales can be seen from June to October. Coiba Island, the largest in Central America and a former penal colony, is now a national marine park and wildlife haven. Isla Boca Brava, not far from David, is another attraction of this coastline, with varied wildlife and rustic accommodation.
Our preferred accommodation
Beach hotel - Gulf of Chiriquí

A tranquil 250 hectare private island resort in the Gulf of Chiriquí, with untouched jungle and pristine beaches. There is a restaurant, swimming pool, bar and lounge.

Beach hotel - Gulf of Chiriquí

A barefoot luxury private island hideaway 20 miles from the mainland and only accessible by boat. The Islas Secas archipelago is made up of 14 islands and this property is on one of them. Only 25% of the archipelago is developed in any way so a stay is very much focussed on nature. The 'Terraza' restaurant, bar and lounge welcomes guests to come together, eat and chat. All meals and drinks are included. The lodge is 100% powered by natural energy and all food and water waste is re-used.