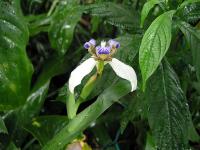 El Valle de Anton is a two hour drive from Panama City and is a valley town (with a Sunday market) set in the second largest volcanic crater in the world. With cooler weather than in the capital, it is a popular place for Panamanians to have weekend homes.
Our preferred accommodation
Country hotel - El Valle

A comfortable lodge on the outskirts of town with birdwatching tours included and all meals. There are lovely gardens to relax in and from where to spot many bird species. (Note there is a minimum stay of 3 nights).

Country hotel - El Valle

A 20 minute walk from town. The main house is built in the style of a Tuscan villa and has an excellent restaurant, lovely gardens and a small outdoor pool. There is also a spa.

Country hotel - El Valle

A family run small hotel, just outside town. The gardens are beautiful and great for bird-watchers or perfect to relax in. The main house feels like a home from home. Dinner can be organised with notice, or there are restaurants nearby.