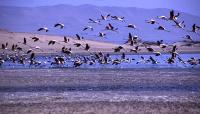 A few hours' drive south of Lima, Ica is Peru's wine centre (harvest is between late February and early April). Fertile valleys punctuate the desert scenery, and the port of Pisco is the centre of a region renowned for its viticulture. To the south of Ica, the Paracas peninsula and the nearby Ballestas Islands form an important attraction for wildlife lovers, a marine reserve home to a wide variety of sea mammals and rare birds. The Nasca lines, enormous geoglyph figures of animals, birds and geometric patterns visible only from the air, are an extraordinary sight whose origins and meaning continue to confound experts. Overflights can be arranged from Ica, Pisco, or Nasca itself.
Our preferred accommodation
Country hotel - Huacachina, Ica

A colonial style hotel surrounded by sand dunes and overlooking the Huacachina lagoon.

Beach hotel - Paracas

A Starwood Luxury Collection/Libertador hotel with 120 rooms and good facilities including 2 swimming pools and a spa. It is set in lovely grounds with views over the bay.