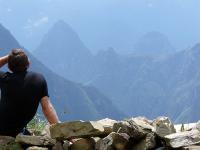 Peru is criss-crossed with Inca trails. Best-known is the classic Inca Trail from kilometre 88 to Machu Picchu - a magnet for hikers worldwide. However, the overwhelming popularity of this route, particularly in July and August, led to severe overcrowding, as a result of which numbers are now restricted.
There are a variety of excellent alternatives, such as the route via Choquequirao, with scenery every bit as impressive and no restriction on numbers. The Salkantay or Lares trails offer a great alternative too, with the option of camping or staying in one of Mountain Lodges of Peru's (MLP) comfortable lodges along the route. Further afield there is the more demanding Ausangate circuit.
Our preferred accommodation

means that the hotel is one of our Dream Destinations.