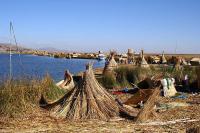 A paved road leads north-east from Colca to Lake Titicaca, the highest navigable lake in the world and mythical birthplace of the first Incas, Manco Capac and his sister Mama Ocllo. The islands of Taquile and Amantaní are a highlight, where the Aymara and Quechua-speaking inhabitants have developed 'communal tourism', continuing to preserve their unique traditions and way of life.
It is also possible to visit the small villages around the lake, or stay in a comfortable lodge on the quiet, remote island of Suasi.
Our preferred accommodation

means that the hotel is one of our Dream Destinations.