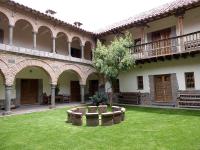 La Casona
Location
Historic centre (Cusco, Peru)
Description
A stunning 16th century mansion on Nazarenas square a short walk from the central plaza de armas. Beautifully restored and furnished, the hotel maintains a classic colonial design with communal areas and rooms set around 2 central courtyards.
Accommodation
The small number of rooms are divided between patio suites, opening onto the central courtyard and plaza suites which look out across the Plaza Nazarenas. The rooms themselves are immaculate and no expense has been spared in the décor, from underfloor heating and antique furniture to the huge ensuite bathrooms and individual fireplaces.
Our comments
A wonderful (though expensive) boutique hotel in the heart of the city.
Client comments and reviews
La Casona was absolutely amazing, the staff worked incredibly hard and the property was just beautiful. - DG (August 2015)
La Casona was an excellent choice - quiet, luxurious but right in the middle of town.  The rooms were super big and the bathrooms were like a spa. - RH (September 2011)