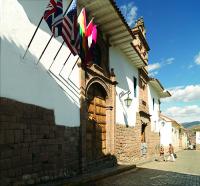 Belmond Palacio Nazarenas
Location
Historic centre (Cusco, Peru)
Description
A restored 18th century convent which combines traditional Inca architecture with top quality facilities and personal service. There is an excellent spa, outdoor heated swimming pool, and a private terrace off every room.
Accommodation
The spacious rooms range from Junior Suites to the opulent Palacio Suite. Due to the nature of the building, no two rooms are exactly alike and each has its own special features. The Z-Collection rooms in each category offer something slightly different - perhaps some original Inca features, or special views.
Our comments
The Senzo restaurant is very good and uses local ingredients.
Client comments and reviews
Quite simply one of the very best hotels I have ever stayed in. The suite we had was amazing ? huge, with a lovely balcony and full of amenities. This is the only hotel in which I have ever been invited to cut my own soap from a choice of hand-made products! Or indeed have someone come to the room to demonstrate how to make the perfect pisco sour. The staff were just brilliant. You know that you are in a good place when the staff stop whatever they are doing to second guess what you might need as you walk past. They never stopped smiling and the place ran like clockwork, with incredible attention to detail. We had dinner in the restaurant one night, where the service was great. The food was trying to be a bit too clever, though. We didn?t stay in Cusco for very long, and it?s on my list of places to return to - I will definitely be staying here again. - ML (September 2015)
The Palacio Nazarenas in Cusco was a very special place to stay. They very successfully combined the Inca water features with the fountains and murals of the convent. The overall effect was marvellous. The staff were incredibly kind and really went out of their way when I came down with food poisoning my first night in Cusco. The location of the hotel was perfect. - KH (May 2013)