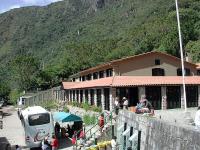 Belmond Sanctuary Lodge
Location
Machu Picchu (Machu Picchu, Peru)
Description
Owned by Belmond (formerly Orient Express), this is the only hotel next to the ruins. A unique location but it is one of the most expensive hotels in South America!
Activities
There are two massage rooms and an outdoor jacuzzi set in the lush, tropical gardens.
Accommodation
Rooms are well furnished, although some are small, and none have views of the actual ruins. Mountain view rooms are larger, and some have a terrace.
Our comments
The hotel's communal areas are always busy during the day with visitors to and from Machu Picchu.
Client comments and reviews
You pay for the location here! It is very expensive. However, the staff are some of the very best I have ever encountered in a hotel - pretty much faultless service. We climbed up to Machu Picchu on a one day hike, and then had one night at the hotel. Dinner was excellent and was included. Our room was quite small and was described as having a ?mountain view?. This means that you can see mountains but not necessarily Machu Picchu. However, bring swimming costumes and go and sit in the hot tub for a wonderful view of the ancient site. - ML (September 2015)
The Sanctuary Lodge was the perfect place to be after the four days trekking. The view of the citadel from the warm waters of the jacuzzi surrounded by orchids was quite enchanting. - KH (May 2013)
Loved the Sanctuary Lodge - small, beautiful setting, lovely gardens, great food and wine (but have to be out of your room by 9 am) - MM (September 2008)
Sanctuary hotel. Ahhhh. Need I say more? We both rate this as the best nights sleep in, oh years!  Really luxurious. - SF (June 2008)
Excellent in all respects. - JL (April 2008)
It was a great trip and we are so glad that we stayed at the Machu Picchu Sanctuary Lodge. What perfect service and our room was one of the ones with a private balcony giving onto the garden. We slept and wrote cards and then we went around the garden and had tea, and it was the first decent 'cupa' of the holiday. - SS (August 2006)