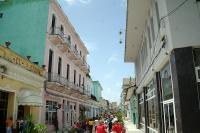 Sancti Spíritus was one of the original seven Cuban cities founded by the Spanish in 1514. Now it is a small, sleepy yet attractive town with restored Spanish colonial buildings and cobbled streets and is, for the most part, refreshingly tourist-free. In the heart of cattle country the 16th centuary city of Camaguey was built in an irregular pattern to confuse attackers, earning it the nickname 'the maze'. It is a charming city with some lovely colonial architecture and has a lively, cultural atmosphere.
Our preferred accommodation
City hotel - Sancti Spiritus

A central hotel in this quiet colonial town. This 19th century colonial house was the former home of Don Rudesindo Garcia Rijo, a well known Cuban doctor. There is a bar and restaurant but no pool.