Forested hills, ports, and forts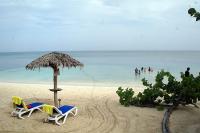 The east of the county, known as the 'Oriente', in many ways represents the soul of Cuba, less known and visited than the western half of the country, but every bit as rewarding for travellers. With remarkable landscapes from densley wooded mountains, to flatlands of sugarcane and beaches with aquamarine seas, this distincly Caribbean region also includes some of Cuba's quirkiest towns.
Holguín has Cuba's second international airport and is the arrival point for visitors exploring eastern Cuba. The countryside is attractive and the city pleasant but most head out to the beaches around Guardalavaca.
Santiago is Cuba's second city, with a ditinct Caribbean flavour founded in 1515 and a former capital. Set in a sheltered harbour, it was a main trading port for African slaves and so has a strong Afro-Caribbean culture evident in its music and dance. Just east of Santiago is the town of Guantanamo, established in the early 20th century when Cuba was a protectorate of the US.
The easternmost town in Cuba, Baracoa, has three forts built as protection against pirates in the 18th century, and Columbus is believed to have landed nearby in 1492. Nowadays it is a quiet town full of charm, a great base for hiking and visiting the less-explored beaches.
Our preferred accommodation
Beach hotel - Guardalavaca

An adults only resort, just over 1 1/2 hours from Holguin airport and in the Bahia de Naranjo National Park.