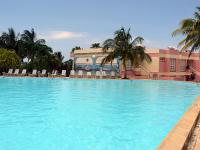 Superclubs Breezes
Location
Varadero Beach (Varadero, Cuba)
Description
An all-inclusive resort 5 minutes from the centre of Varadero. There is a large pool, 8 bars, 3 restaurants and of course a lovely beach!
Activities
There is a long list of activities to choose from, all included with your stay. Kayaking, snorkelling, sailing, windsurfing and scuba diving are a few of the options.
Accommodation
270 rooms but the bungalows around the grounds are the best. Rooms are spacious and comfortable.