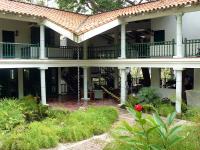 La Moka Hotel
Location
Las Terrazas (Viņales valley, Cuba)
Description
A comfortable hotel in the hills of Sierra del Rosario just outside the village of Las Terrazas. There is a pool and tennis courts.
Activities
Walking, kayaking, horse riding and mountain biking can all be done in the area. For the more adventurous there is also a canopy zip wire.
Accommodation
26 air conditioned rooms in the main building and a further 5 air conditioned rooms owned by the hotel but each in a family home within the village. These rooms are good options for those wanting a more family orientated experience but Spanish is advisable.
Client comments and reviews
Las Terrazas was perfect for this particular trip - quiet and pretty, cool pool and nice people. - HB (December 2009)
This was a very beautiful location, and the hotel itself was beautifully done - would recommend here! We just chilled, but they seemed to have a lot of walking/biking activities available if you wanted it. - JS (August 2009)